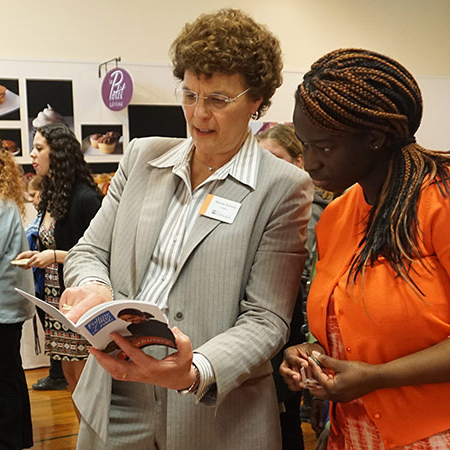 "SUNY Cobleskill and ESG share a commitment to innovation"
President Marion A. Terenzio, Ph.D. of the State University of New York College of Agriculture and Technology at Cobleskill, recognized for her leadership in creating thriving campus communities and stimulating higher education as an economic driver, has joined the Advisory Board of Empire State Greenhouses. 
"In our role as a College of Agriculture and Technology, we strive to preserve our global ecosystem through creating a robust food supply chain while protecting the environment," said Dr. Terenzio. "SUNY Cobleskill and ESG share a commitment to innovation within these fields, and our work together demonstrates what can be possible when we engage cutting-edge technology to enhance food production worldwide. Partnering with ESG is a natural pathway in supporting their role as a positive disruptor with the goal of feeding the world while nurturing our planet."
Her landmark achievements include her establishment of the Institute for Rural Vitality, a model program, which received the 2019 National Award in Innovation by the American Association of State Colleges and Universities (AASCU), and her work with the National Governor's Association in 2019 highlighting the role of higher education institutions in rural communities. She is currently the co-chair of the Mohawk Valley Regional Economic Development Council. 
Dr. Terenzio currently serves on the Governor-appointed New York State Agriculture and Markets Task Force on Diversity, Equity and Inclusion, is a sitting member of the Bassett Healthcare Network Board and is a recipient of the New York State ACE Women's Network Catalyst Award for her work with women leaders. 
"Rural-serving institutions have a unique opportunity and obligation to be stewards of place. In partnership with local and regional communities we can build human capital and create innovation/entrepreneurship solutions and products that enhance community well-being." writes Dr. Terenzio. 
Read the full Inside Higher Ed article: Dismantling the Last Acceptable Prejudice →
Learn more about her insights and initiatives here →