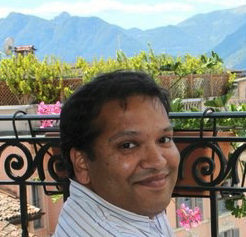 "It's a win, win, win, win."
The entire ESG team congratulates our Advisory Board member Dr. Indranil Ghosh on receipt of the prestigious Nautilus Book Awards for Business and Leadership for Powering Prosperity: A Citizen's Guide to Shaping the 21st Century. This is the second recent honor that the book has received. Dr. Ghosh is also the recipient of the Axiom Business Book Award Silver Medal in International Business / Globalization. ESG is proud to be included in this important work. Dr. Ghosh, we applaud you. 
Looking for positive and uplifting news? Tune in to this podcast hosted by Dr. Indranil Ghosh, author of Powering Prosperity, with Louis Ferro, founder of Empire State Greenhouses, discussing the carbon-negative vertical farming revolution coming to New York State. "It's a win, win, win, win" says Dr. Ghosh.
In addition to his work as author and podcast host, Dr. Ghosh is the CEO and Founder of Tiger Hill Capital. He is based in London and leads the firm's research and investment activities as well as spearheading the Healthcare platform. Dr. Ghosh is a well-known figure in the investment community and manages Tiger Hill's relationships with sovereign investors and large private business groups.
Prior to Tiger Hill Capital, Dr. Ghosh was the Head of Strategy and Macroeconomics at Mubadala, a $60 billion direct investment company of the Abu Dhabi government. He was responsible for portfolio strategy, incubation of new investment areas, and corporate business development. Earlier in his investment career, Dr. Ghosh was a Senior Investment Advisor at Bridgewater Associates, the largest Global Macro hedge fund in the world with over $100 billion assets under management. Dr. Ghosh began his career at McKinsey and Company where he was an Associate Partner in the New York Office and advised numerous healthcare, financial services and private equity clients.
Dr. Ghosh holds a PhD and MSCEP in Chemical Engineering from the Massachusetts Institute of Technology, and a M.Eng. and MA in Natural Sciences from Trinity College, Cambridge University.